Published by Jim Salter // October 28th, 2014
---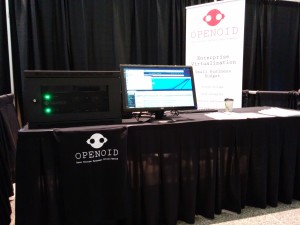 Sanoid is the culmination of about 5 years' work and testing-under-fire in my own local consulting business, but All Things Open 2014 saw its first launch as a finished product under its own name. It was a great experience, and I learned a lot of things – one of which being, if you're the only one holding down a popular booth at a large technical conference, your voice is going to be shot after the first day!
The demo given was pretty simple, but compelling enough to draw a lot of interest – here are two boxes in a rack. The one on top is running some VMs.  The one on the bottom gets replicated copies of those VMs over the network once every hour. Make a change in production, and it replicates to backup.  Here's the config file, it's simple, single-point-of-configuration, human-readable. Here's the replicated copy of the production VM, booted in real-time on the backup server, without disturbing the production environment. Here's monitoring it to be sure everything's working. I have to admit, i was surprised that nobody challenged me on the replication process – I expected (and was prepared to do) "party tricks" all day – change the wallpaper in production, trigger a manual replication, see the change happen on backup. Oh well – maybe there will be some properly paranoid and untrusting types at the next show!
So, step one complete… launch the product, show it to people, get some interest.
It's surprising how much there still is to do after you have a complete product, though – like, oh, finishing this website, creating the marketing material I didn't have done in time for the product's actual launch, publish the code, reach out to the people who gave me business cards at the show… all those "little things". =)
As time goes by I'll be updating the blog section of the site here with more on Sanoid and my experience launching it, what you can do with it (and why you shouldn't be without it!), etc.  In particular, I will be sharing some case studies from small businesses and organizations that use Sanoid in production.